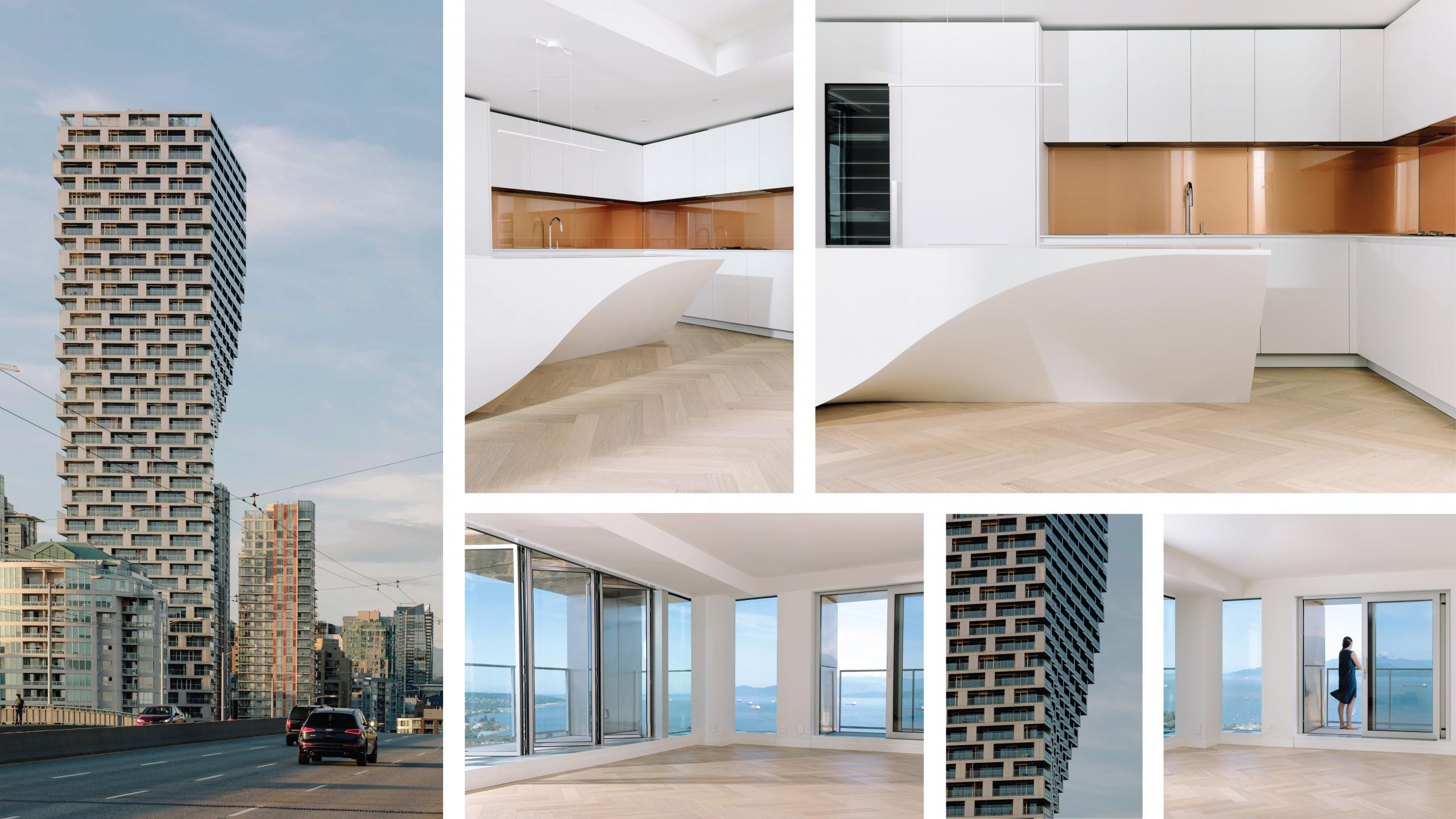 Projects
•
September 2020
Custom Herringbone Chosen for Vancouver House
With its precarious profile and twisting facades, Vancouver House has become an instant icon on the city's skyline. Developed to take advantage of a uniquely challenging slice of real estate at the base of the city's bustling Granville Street Bridge, the tower rises from its narrow context among on-ramps and bridge supports to claim a dynamic position as the gateway to the city.
Conceived by architect Bjarke Ingels as an example of 'gesamtkunstwerk' - the city building as a total work of art – Vancouver House anchors a vibrant new community that will include work spaces, retail, hospitality, shops and more. Complementing the sculptural presence of the tower in the sky is an emphasis on public art and gathering places at street level.  Green roofs on the surrounding buildings create the calming effect of an urban meadow among the layered concrete approaches to the bridge.
The homes of Vancouver House boast some of the most dramatic views in the city, but the interiors offer drama aplenty as well. From kitchen islands that appear almost to levitate to copper cladding that shimmers with reflected light, the interior spaces are as innovative and intricately designed as the building's pixelated façade. 
For the penthouse suites, the designers at Dialog worked with Kentwood's product team to create a custom herringbone in natural brushed oak.  The flooring adds a classic element to the bold, futuristic vision of the building and the sweeping natural beauty of its setting.
This floor is a custom brushed oak herringbone but click here to view a very similar product in our running line - Brushed Oak Athabasca.
Learn more about Bjarke Ingels Group and DIALOG here. 
Photography by Mike Seehagel.