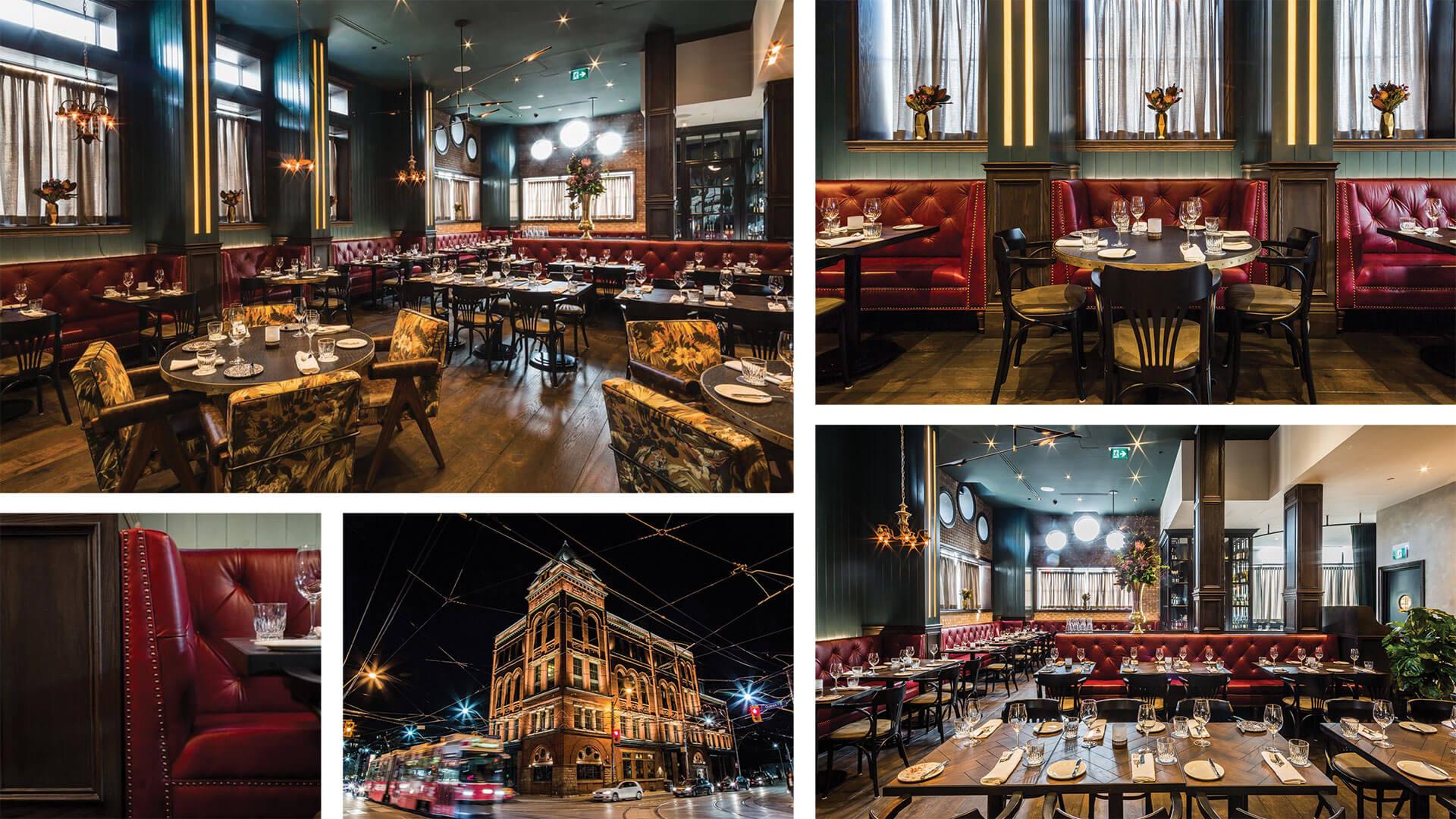 Press, Projects
•
January 2021
The Broadview Hotel features custom floors from the Couture Collection
Walk down Broadview Avenue, and there she sits at the corner of Queen St. E. The Broadview Hotel, a historic landmark of Toronto's east end, its restored Romanesque-style façade juxtaposed against the shiny city skyline.‎‏‏‎ ‎‏‏‎‎‏‏‎ ‎‏‏‎ ‎‏‏‎ ‎‏‏‎ ‎‏‏‎ ‎‏‏‎ ‎‏‏‎ ‎‏‏‎ ‎‏‏‎ ‎‏‏‎ ‎‏‏‎ ‎‏‏‎ ‎‏‏‎ ‎‏‏‎ ‎‏‏‎ ‎‏‏‎ ‎‏‏‎ ‎‏‏‎ ‎‏‏‎ ‎‏‏‎ ‎‏‏‎ ‎‏‏‎ ‎‏‏‎ ‎‏‏‎ ‎‏‏‎ ‎‏‏‎ ‎‏‏‎ ‎‏‏‎ ‎‏‏‎ ‎‏‏‎ ‎‏‏‎ ‎‏‏‎ ‎‏‏‎ ‎‏‏‎ ‎‏‏‎‏‏‎
Background
A three-year restoration project saw the run-down Broadview revitalized as a 58-room boutique hotel. Built in 1891 by the Torontonian entrepreneur Archibald Dingman and founder of the Dingman Soap Company, it went from a prominent social gathering spot to become the notorious strip club Jilly's. 
In May 2014, the Toronto developer Streetcar Developments acquired the building. In 2017, the renovation received the Lieutenant-Governor's Ontario Heritage Award for Excellence in Conservation. The new hotel has drawn international and local acclaim for its contribution to the rapidly changing Queen Street East neighborhood.
Partnership
Jeff Schnitter, Vice-President, Architecture of Streetcar Developments, approached Metro as he thought the project would be a great opportunity for our company to be part of something truly special in Toronto. He also knew that we had the adaptive and creative tools to meet the specific flooring requirements.
The Look
Barbican, from the Couture Collection by Kentwood, fits the needs of Lincoln Hall perfectly. 
The flooring for the Civic Restaurant proved a bit more of a challenge. The product had to be just right, considering the daily usage and high profile of the space, sitting directly off the main lobby.
After trying a couple of existing options, we decided to build a custom product specifically for the Civic. The finished flooring received a great response and set the tone for the whole room.
The Result
The story and history of the Broadview are evident as soon as you step through the front door. We are proud to have our products bring function and design to this exciting project. 
FLOORING: Barbican
LOCATION: Toronto, Ontario
PHOTOGRAPHER: Joel Levy, Mike Rousseau, Worker Bee Supply
INTERIOR DESIGNER: Design Agency, Developed by Streetcar Developments