Kentwood's Couture Luxury flooring
Extra-wide planks and extra-long lengths

About Couture
Kentwood's Couture Collection by Metropolitan presents Monument. This contemporary collection of floors is the work of artisans, their craftsmanship evident in the dramatic widths and lengths of the boards down to the finest details.
The carefully chosen colors, drawing inspiration from some of the greatest historical monuments in the world, reflect the enduring grace and style of subtle, modern luxury. Just like a piece of stunning haute couture, this flooring makes an unforgettable and ever-lasting impression. Yet, it couldn't be easier to maintain, for years to come, thanks to a low-luster polyurethane finish.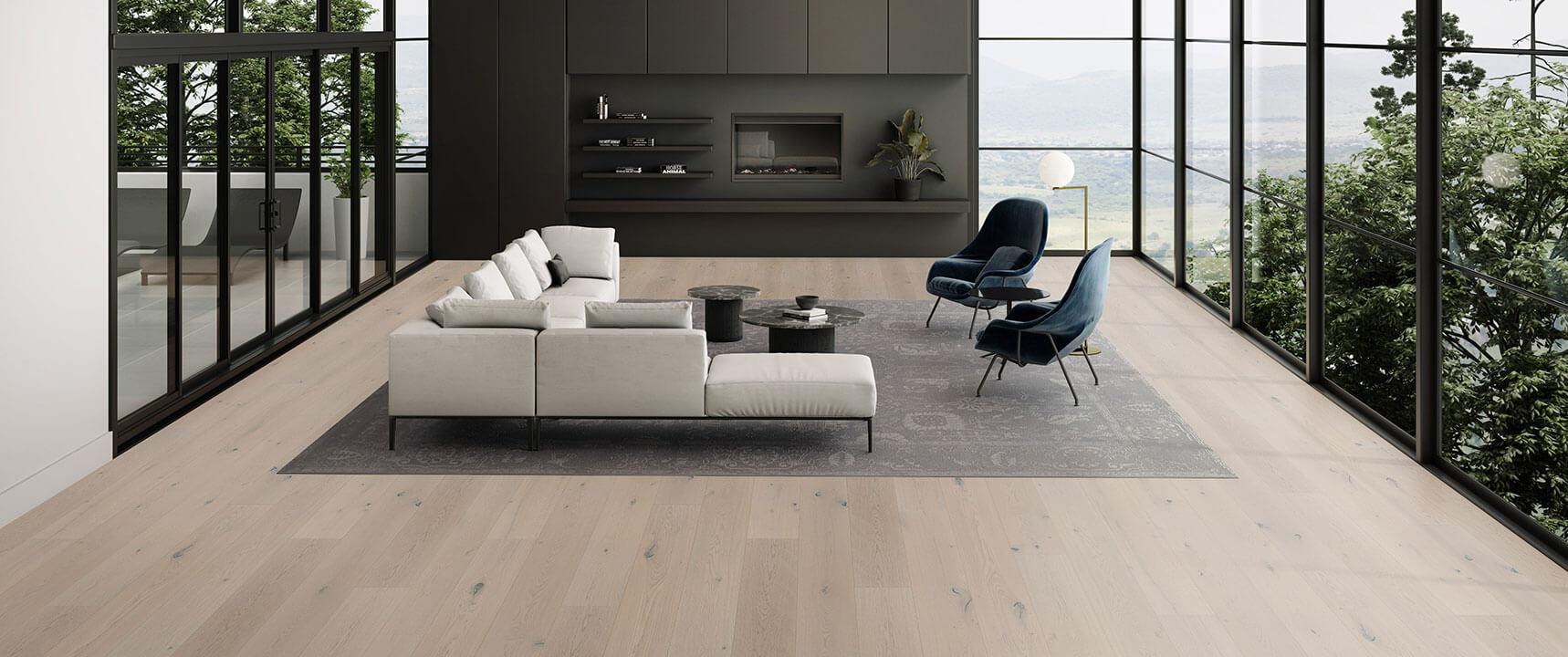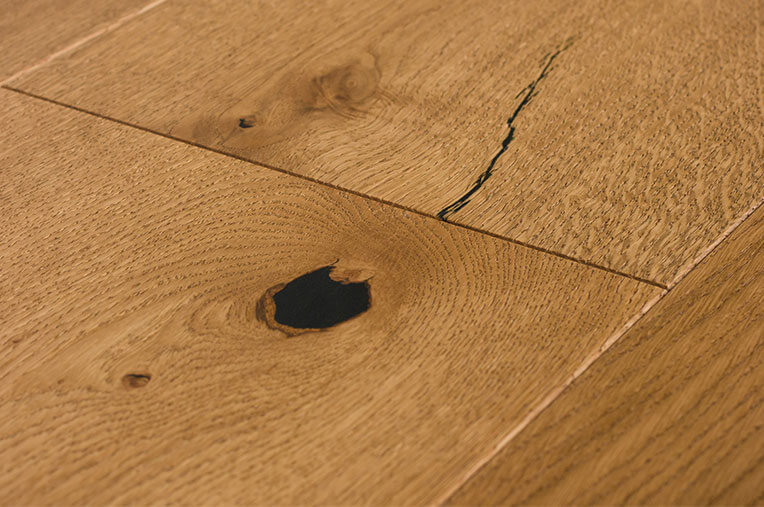 Couture Benefits
An expansive platform boasting a 3.8mm veneer of sawn and brushed European oak. A custom-designed finish creates the look of a European oiled floor in an easy care polyurethane treatment. As engineered flooring, it comes with the flexibility to be installed on, above and below grade.

Couture Applications
With its extra-wide planks and extra-long lengths, this collection is wonderfully suited for large, open spaces such as expansive open concept condominiums, penthouses, fine dining restaurants, concert halls, galleries and performance spaces.
The refined brushing technique gives the floors a softer look and feel, which lends itself to an elegant and high-end modern look. The natural, organic and muted tones complement and enhance these distinct spaces rather than steal the limelight.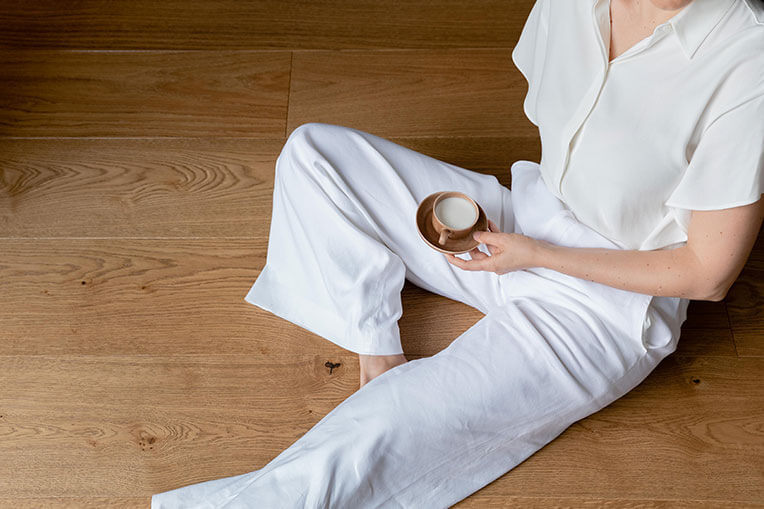 OAK 'GIZA'
Giza lends its name from the iconic Egyptian city, home to the Great Pyramid and the Great Sphinx, and brings the same sense of natural wonder. The extra-wide and extra-long planks add dimension and space, making them ideal for larger rooms.
The European white oak, with its thicker wear layer, provides strong, long-lasting and beautiful boards full of natural character. With a low-gloss polyurethane finish, the results are easy to care for and maintain. 
Colors: Cream/Taupe, Light Grey, Light Brown
OAK 'LOUVRE'
Inspired by the Louvre in Paris, a former palace of the Kings of France and now the world's largest art museum, this elegant flooring is an incredible collection that captures the true artistry of hardwood floors. It evokes a timeless esthetic with its wide planks and long lengths.
Rich in character, the European white oak brings natural beauty, durability and longevity to any larger setting. The low-gloss polyurethane finish enhances the flooring's lighter color and distinct texture while making it easy to maintain and care for. 
Colors: Cream/Taupe, Blonde/Light Yellow, Light Brown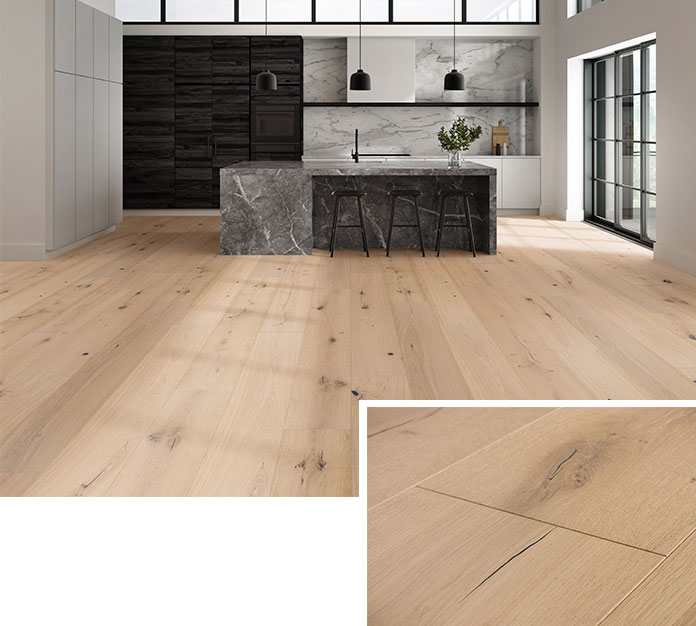 OAK 'TULUM'
Evoking the sunbaked beaches of its Caribbean namesake, this floor features a pale blond veneer of premium-grade sawn European oak, lightly brushed to suggest a worn and weathered façade. 
The extra-wide, extra-long planks add a dramatic dimension to the installed appearance. Finished with a low-luster polyurethane finish for easy care and maintenance.
Colors: White/Off White, Blonde/Light Yellow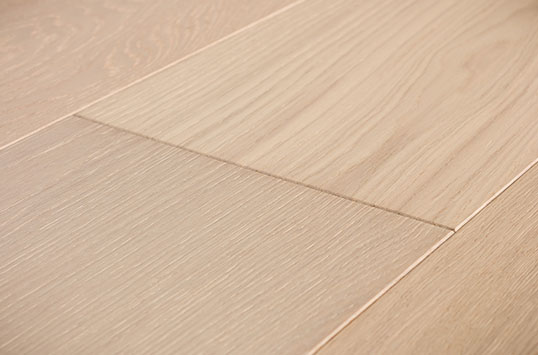 OAK 'PALMYRA'
The generous veneer of brushed European white oak, already rich with natural character, is treated with a sophisticated smoking process to add depth and color to the wood's natural beauty, creating a warm and welcoming surface.
Finished with low-luster polyurethane for easy care and durability.
Colors: Blonde/Light Yellow, Light Brown, Orange/Copper, Red/Brown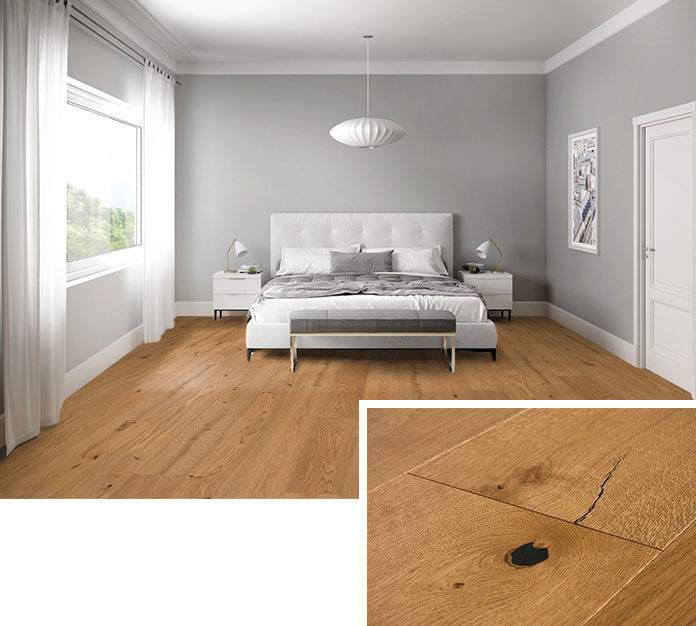 Denali and Petra
This majestic duo features massive engineered planks, fully seven feet long and over nine inches wide. Each is dressed with a generous veneer of European oak hardwood, brushed and abraded to recall the etched and eroded surface of an ancient, timeless artifact.
The boards are finished with state-of-the-art low-luster polyurethane which offers the soft, organic appearance of a natural oil finish in a low maintenance, easy care finish. The result is a timeless presentation of natural beauty, tailored for contemporary living.
Couture Specs
Dimensions 9 ½" x ¾" x assorted up to approx. 82" to 10¼" x 5/8" x approx. 86" (83% full boards)
Warranty 50 year residential wear, Lifetime manufacturing warranty
Installation options May be glued down over radiant heat, Nail or glue down only, On, above or below grade